"You can have anything you want in life if you dress for it." – Edith Head.
While renewing the wardrobe, a man should pay a lot of attention to the types of t-shirts he needs. It is not an overstatement if we say that there are some t-shirts a man must have. For workday, a formal t-shirt, for a Sunday brunch breezy printed t-shirt, and the list goes on. Not only are they super comfortable and easy to maintain, but if you wear them with style, t-shirts can do wonders to make an impression on others.Mentioned below are the types of t-shirts that will help you leave an impact on many people on different occasions. Keep in mind the collar, fabric, print, and color you want to opt for when buying a t-shirt.
1. POLO T-SHIRT –
This type of t-shirt is very versatile. They can be used as a go-to t-shirt to wear on any formal event, any sports event, a casual day, for just running errands, etc. You can wear a polo shirt anytime and anywhere you want. This t-shirt is an excellent choice for lean men as they enhance the upper body look and make them look fuller.
2. FLANNEL SHIRT OVER T-SHIRT
Flannel shirts over t-shirts are cool and casual. You can wear them for layering purposes and to have some warmth. They can be of either cotton or wool and are extremely soft and comfortable to wear. They're great for picnics, hanging out with friends, going out for drinks, etc. It is best to wear type of t-shirts in a non-formal setting. They give off cool and chill vibes and provide you with enough insulation to keep yourself warm and comfy.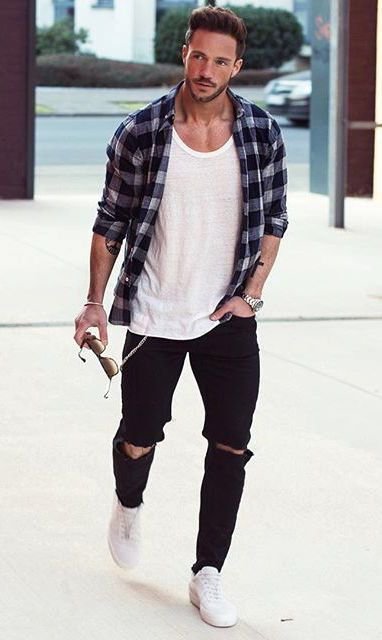 3. LINEN T-SHIRTS
It's the summer season bonanza as linen is an extremely soft, breathable, and airy fabric. All these characteristics make Lenin a great deal for summers. Lenin is the type of t-shirt that is not only comfortable for summers but also radiate elegance, especially pastel linen t-shirts worn with solid color jeans. It will be your go-to t-shirt on hot summer days, for hanging out with friends, going on a date night, or whenever you want to wear it. Beware it might become your fashion obsession!
4. CHAMBRAY
Chambray t-shirt fabric is often mistaken for denim by many people. You can pair this type of t-shirt with almost anything and everything. It is usually considered to be casual wear, but if you want a more outline and gathered look, you can always wear it under a blazer and turn your casual look into a formal one. This t-shirt is easy to style, but it may take effort to choose the shades of button wear that can go with these t-shirts.
5. CUBAN COLLAR T-SHIRT
Having a little retro vibe to them, Cuban collar t-shirts are styled as open collars and short sleeves giving an extremely exotic look. It is a must-have for your wardrobe. Though these types of t-shirts are not meant for everyone. You need some fine styling power to pull these off. Once you learn how to style them, they can be your go-to wear t-shirts in summer. The textures and prints make them look like a piece of creativity, and they will make you stand out in a crowd.
6. MANDARIN COLLAR SHIRT
This t-shirt is elegant and class incarnated. These band collar t-shirts are extremely sophisticated and are the best choice for a formal event. With a mandarin collar shirt and crispy creased trousers, you can easily complete your formal look and stand out in the crowd. But they don't need to work for formal events only. You can style pastel mandarin collar t-shirts with Jeans, especially white shirts with blue jeans and folded arms, it will radiate elegance without completely making you look uptight and formal.
7. HENLEY T-SHIRT
A henley t-shirt is a must-have for your wardrobe. From last-minute road trips to late-night hangouts at a friend's place, this type of t-shirt is your answer to almost everything. It is the best choice for the pre-winter season. You can pair it with baggy jeans, cargo, shorts, joggers, and almost everything.
8. Oxford Cloth button-down collar shirt
This is a classic evergreen option in the list of types of t-shirts for men. An Oxford button-down t-shirt is the ultimate choice for a men's wardrobe. It's a bit thicker than a formal shirt and can easily balance out between formal and casual. It comes in a variety of colors, but in pastels, it looks top tier. It also has a hanger loop at the back, which makes it extremely easy to store. You can pair this t-shirt with jeans and trousers, but with chinos and brogues, it can make you stand out like no one else. Be it a formal event, a family dinner, or hanging out with friends, this t-shirt will never let you down.