Ways to Find the Perfect T-Shirt Size:
With a million different companies and different styles, it has become challenging to find the perfect size T-shirts, so instead what most people do is, pick random t-shirts from the store and try each one when they reach home.
This not only takes a lot of time to finalize one t-shirt but also, there is no guarantee if these sizes will be fit for you or not.
Let us stop right here and see how we can find the perfect t-shirt size in one go without wasting much time and effort:
Tightness: 1st Way to Find Perfect T-Shirt Size
A fit t-shirt is neither too tight nor too loose, if it is too loose, it will hang on your frame as it hangs on a clothe hanger if it is too tight, it will look as if you have been forced to wear it, and chances are, if the fabric is delicate, it will rip. That might not be an amazing thing to experience, will it?
Shoulder fit: 2nd Way to Find Perfect T-Shirt Size
Have you ever visited a market or a store with your mom, and she started putting the t-shirt on your back to check if the t-shirt is of your size?
Well, if you did not know by now, now you must know that the best way to judge the fit of a t-shirt is to see how it fits around your shoulder. In a good fit, the seams of the shoulder would reach the end of your shoulder and the top of your arm.
Sleeves: 3rd Way to Find Perfect T-Shirt Size
If the sleeves are too tight, your arms might be unable to breathe and hence look squeezed. However, sleeves differ with different styles of t-shirts, like you will not have to worry about the sleeves in a tank. However, if it is a half sleeve or a full sleeves t-shirt, you must get a t-shirt that fits well in the sleeves area.
Final shape: 4th Way to Find Perfect T-Shirt Size
Gone are the days when people used to think that clothes are a way of covering your body. Now, with new fashion sense in people, clothes are a way to showcase your body's shape perfectly.
Many random t-shirts will fit on you like a cover. Instead, opt for ones that follow the lines and shape of your body to give you a flattering look.
Choose the type of t-shirt you want:
There are many different styles of t-shirts present in the market. With styles, the sizes and fits also differ. No two T-shirts of different styles with fit you the same if they are of the same size. The different styles of the shirt are: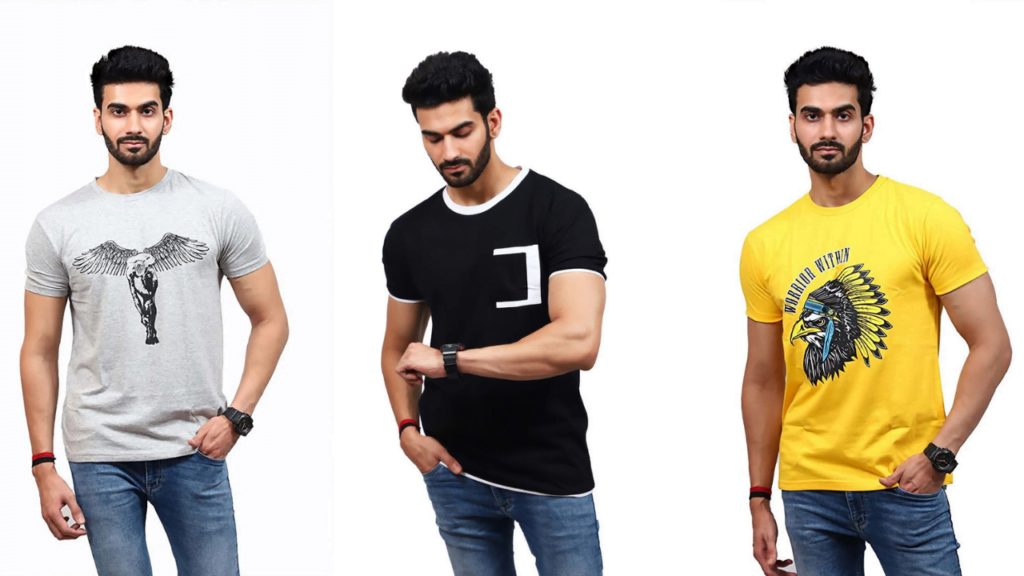 Crew neck
V- neck
Polo
Henley
Scoop neck
Raglan
Yoke
Ringer
Cap sleeve
Tank
Measure your chest:
To find the perfect fit, you will need to make sure that you properly measure your chest. Make sure that the measuring tape goes around properly and you measure the fullest part of your chest.
Measure length:
Measure the length from your shoulders to your hemline. Getting the correct length is very important or else you might end up with a t-shirt dress, rather than a t-shirt.
Measure Waist:
Your perfect waist size will be 2 inches above your belly. Try to leave 2 finger gap when measuring unless you want your t-shirt to look like a bodysuit. Some people usually do not focus on the waist while buying a t-shirt. However, if you are looking for a perfect fit, do not miss any point.
Check the size chart:
Size charts differ as you move along with different brands. Sometimes you might find yourself looking perfect in a size S but in some other brands' size, XS might fit you better.
To avoid wasting time and effort online or offline, check the size chart and match your body's measurements before making any purchases. Every online store/website mentions size charts and measurements on their website, so do not worry about the size that you get.
Conclusion:
Now that you know everything about what a perfect size t-shirt looks like, you would be able to go to a store and pick the right t-shirt for you. Just keep all the above-mentioned things in your mind and buy clothes from a store (to keep a proper size balance).
Check out other fashion ideas and trends – Click here
Want to be updated with fashion trends?
Well, we are here to update you, just hit the given link and follow our Instagram page.